Syncro System
3D PDF Maker for upfitting vans with equipment and accessories produced by Syncro System.
Syncro System increases the efficiency of their productive processes and reduces the time of their projects realization thanks to 3D PDF Maker.
REQUIREMENTS
The Syncro System commercial office had to satisfy the requirements of its sales network that was in need of creating quotation proposals in the shortest possible time and get them visually appealing and tempting as well as adequate to its customers' needs. The basic requirements:
Cutting costs and time reduction during revision
Improved data exchange with customers
Efficient presentations of virtual prototypesi
SOLUTION
To design van upfitting Syncro System makes use of ProA 3D, the 2D/3D CAD software for furnishing elements design, finishing and quoting developed by BetaCAD. Based on Autodesk®'s AutoCAD® OEM technology, ProA 3D is a program that facilitates the creation of furnishing units on layouts supplied by the customer through use of catalogue or tailored elements which are integrated with the management system linking graphics elements and their correlated data.
Thanks to ProA 3D, Syncro System's designers have specific functionality at their disposal to create 3D projects of technical furnishing units and to get automatically the bill of materials and the cost quotation. Once the project is complete, the commercial proposal is prepared and presented to the Client consisting of the quote and the detail drawings along with an interactive 3D model giving a vivid and realistic insight into the project elements.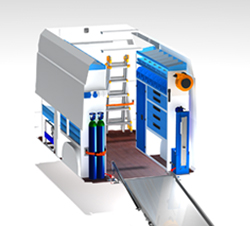 The 3D visualization tools suit best to present your projects in a highly efficient way. Interactivity, the possibility to see the model from different angles, to appreciate its colours and materials without learning to use complicated software products contribute to a quicker and unhindered spreading of your project as well as data sharing within your working group.
3D PDF Maker by BetaCAD is the optimal solution for this purpose, the new way of communication and creation of leaflets, manuals, assembly instructions, presentations, product sheets and other PDF documents containing interactive 3D models in a quick and easy way and with no specific technical knowledge.
Syncro System harnesses the potential of 3D PDF Maker to draw up their quotations. The 3D model embedded in the PDF file of a quotation can be rotated, zoomed in or out; can offer various Views, cross-sections, hidden or semi-transparent parts.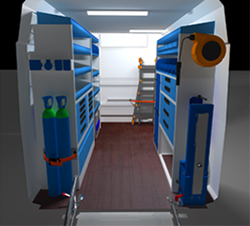 It is possible to add comments, notes, texts, graphic signs (e.g. arrows), dimensions, even area and perimeter. 3D PDF Maker facilitates data exchange making it comprehensible even for those who do not normally work with CAD models and helps to make the project idea more concrete through its three-dimensional representation and an easy access to it.
Being the International standard format, PDF is secure and lets Syncro System send their 3D models worldwide smoothly and make the process of revision, approval and commercial negotiation a way quicker and easier.
"We were evaluating different solutions when we made choice for 3D PDF Maker, as we had already been collaborating with the BetaCAD Srl company and it proved to be a trustworthy and serious partner. The offered product allows quick management of editing during the project design process enabling to add all possible alternatives at no exrta cost"
Luca Comunello. Chairman of the board of directors of Syncro System
RESULTS
Syncro System has already reaped the benefits of the usage of 3D PDF Maker, a modern and innovative solution appreciated inside the company as well as outside of it. The benefits derived from 3D PDF Maker:
Increase of productivity
Optimized projects revision and publication costs
Quick data exchange
3D visualization with free Adobe® Reader®
More efficient communication
The use of the 3D potential to present ideas and projects
"The new technology developed by BetaCAD lets us demonstrate a van equiped with the desired furinishing components. The customer can better appreciate his idea, and the better he realizes it, the quicker he takes the decision of its implementation. We deal with modules and the customer often has difficulty in the perception of the completed work. 3D PDF Maker facilitates the phases of the upfitting selection and arrangement for the customer"
Luca Comunello, Chairman of the board of directors of Syncro System