Baruffaldi Plastic Technology
Baruffaldi Plastic Technology chooses 3D PDF Maker to demonstrate their equipment, and the automatic drilling machine is one of its instances. Thanks to 3D PDF Maker, the company discovered an innovative way of presenting its industrial machines design and prototyping to the clients.
REQUIREMENTS
The Baruffaldi company was, first and foremost, focused on finding a tool to improve their communication with Clients as well as the collaboration of their internal staff, especially, in order to achieve:
efficient presentations of virtual prototypes
design costs and project delivery time reduction
higher clients involvement in a project through interactive presentations
safety of the shared documentation
THE SOLUTION
he company used to experience limitations when presenting to Clients its prototype drawings printed out on paper. Firstly, it was the project idea itself that was not quite clear and, occasionally, even not correctly conveyed, so giving a wrong idea as if the project was lacking something or was rather vague. The missing part was the third dimension which the Client could not perceive on paper, but, which, ultimately, became tangible thanks to 3D PDF Maker.
In fact, 3D PDF documents created by Baruffaldi allowed clients right away to seize prototypes key features and custom solutions developed for them, so avoiding a waste of time in lengthy revisions.
Now the client takes an active part navigating through a 3D PDF document the way the producer determined it when creating his 3D model.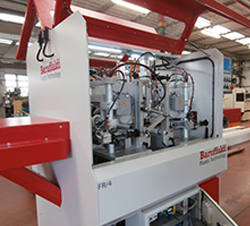 Overcoming the issue of two-dimensional representation, the company has gained an advantage of 3D representation which gives an immediate access to clear details. Baruffaldi now entirely relies on the tool producing its documents which are easily handled by both collaborators and clients, and, the latter, finally, can fully comprehend the machine they are evaluating for purchase
"3D PDF Maker is a truly efficient tool for our company as, finally, we can be easily understood by our clients, speed up the design process and produce machines that are often customized and so require clients' feedback and approval"
Engineer Enrico Piccioli, Baruffaldi Plastic Technology
The Baruffaldi company's particular attention also focuses on the precision of details. The possibility to communicate this aspect to a third party through a document rich of detail and interactive tips is, by all means, a crucial benefit that saves time and optimizes project management. The interactive brochure, as the one for the automated drilling machine created by Baruffaldi with 3D PDF Maker, is a step forward for the company's technical communication.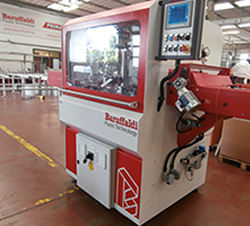 The brochure captures attention of a person even without any technical competence thanks to an interactive 3D model which is intuitive and easy to take in through its visual representation. Furthermore, the machine operation is demonstrated with the help of the saved views and sections. There is no longer need to produce physical prototypes of a machine that is presented from different viewpoints in line with a client's requirements. The interactive animation along with views, sections and links created with 3D PDF Maker contribute to the instant comprehension of a Baruffaldi machine with its technical specifications. All these elements cannot but leave a lasting impression on a person navigating through the file, also favouring the negotiation and sales processes.
"We are able to enter into minute details presenting a project to our interlocutor thanks to the dimensions and commenting system. In this way, we supply to our Client 3D PDF documents with a highly intelligible machine layout. Now we have an active interaction with persons we send our project files to, inviting them to navigate our documentation through a defined set of cross-sections, created with the 3D PDF Maker interactive links function, and getting their immediate feedback on them. Also the possibility to turn a layer of interest off or on is not of minor importance, when you need to draw attention to some particular component of a machine."
Engineer Enrico Piccioli, Baruffaldi Plastic Technology
The Baruffaldi company also benefits from the sensitive data protection of a project when sharing its product documentation. The recipient can view a 3D model with Adobe® Reader®/Acrobat Reader DC, a free standard software application, but cannot use the project data as they are not stored in the PDF file. 3D PDF Maker proves itself to be safe and protected technology.
The 3D content of a document can be used only in order to display a product by the recipient. Besides, the PDF file of a 3D model can be generated at any design phase, which facilitates the communication with a client and speeds up the sales process, shortening order fulfilment and machine delivery time.
"Now we are a way quicker proposing our equipment to clients! We offer a technical brochure in PDF containing 3D information which unlike an original drawing file has an important advantage of protected data. We feel secure when sending our projects abroad. Compared to a simple 3D PDF export from a CAD program, 3D PDF Maker customization capabilities allow to create highly interactive documents."
Engineer Enrico Piccioli, Baruffaldi Plastic Technology
RESULTS
The use of 3D PDF Maker, the innovative and easy-to-use tool, brought the following benefits to the Baruffaldi Company
Intuitive model exploration
Better understanding of a project by all the involved members
3D projects display using the free Adobe® Reader® / Acrobat Reader DC software